Rainbow Community School
is a private, independent school serving 42 preschoolers and about 120 students from kindergarten through eighth grade in Asheville, North Carolina. For more than 35 years, we have been a national leader in alternative, holistic and contemplative education.
Learn more about us.
Latest News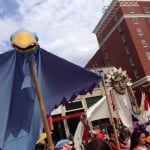 Rainbow was a fantastic Mardi Gras Krewe at the front of the whole parade with our Rainbow Goddess, the big blue bird, the sun and moon, and lots of sweet children flying around as butterflies.